As shared on LinkedIn September 9, 2022 by World Bank consultant Clémence DRYVERS:
"KNOWLEDGE SHARING 💡 – INSTITUTIONAL COOKING IN KENYA 🇰🇪
Recently, a CoP member wanted to learn about the different practices when it comes to accelerating clean cooking in schools in Kenya. Thanks to our diverse and devoted members, we were able to bring more light to the matter.
In Kenya, institutional cooking has received less attention than household-level clean cooking. In the past decades, clean cooking innovations and interventions for schools, hospitals and prisons have been very limited. Moreover, in areas like Kakuma, continued reliance on biomass has caused wood depletion, leading to a rise in wood prices, in addition to the health, environmental and gender impacts of reliance on traditional biomass.
In the case of schools in Kakuma, affordability is an important obstacle to accessing clean cooking technologies. Certain schools have very limited resources, especially in less privileged settings. Furthermore, capacity is another major obstacle, as cooking in large quantities during long periods requires sufficient cooking capacity and efficient cooking methods.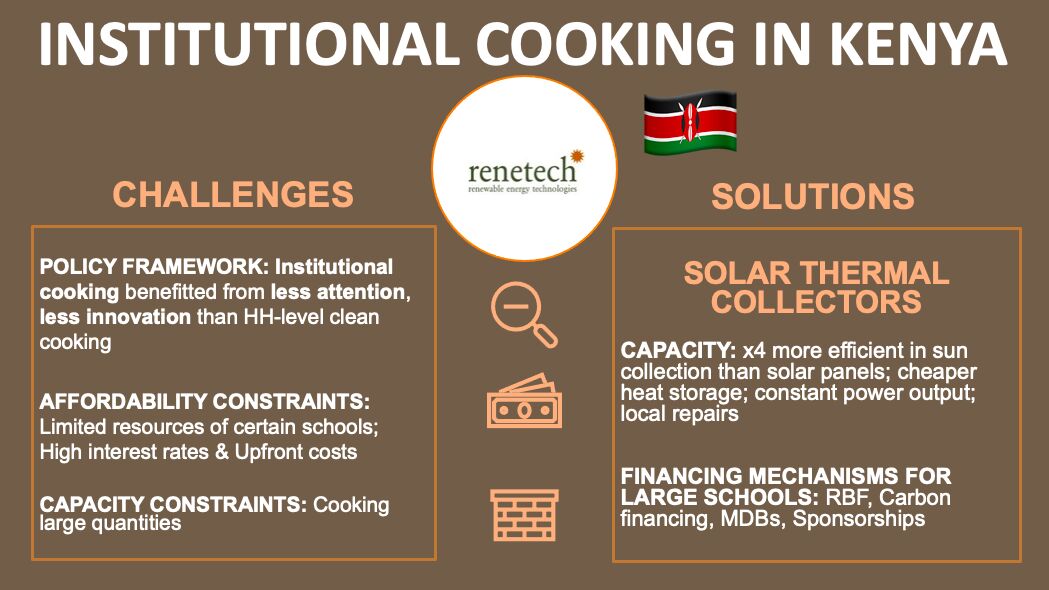 Picture by Clémence DRYVERS.
With these technical and affordability constraints in mind, Renetech, a renewable energy solutions company that has been operating on clean cooking in Kenya for more than 3 years, developed an institutional solar thermal cooking solution. This solution is four times more efficient than solar panels in collecting sun rays and can provide constant heat output which is necessary for cooking at scale.
Moreover, this technology doesn't require the use of a battery which considerably lowers its cost, making it a more affordable solution. Additional affordability constraints such as high-interest rates and high upfront costs can be alleviated by the support of foundations, MDBs, and sponsorship schemes and a through financing mechanisms such as Result Based Financing (RBF) and carbon finance."